The great thing with capsule wardrobes is that you can start whenever you want. You may want to wait for a new season or a new month to start - don't. The more you delay the less likely you are going to start. Instead, start now. You don't need anything new except a plan and large boxes. Here is a plan that I would follow if I were getting started with capsule wardrobes.
Creating A Capsule Wardrobe
1. Choose a rule to start with
Having rules to follow is helpful when learning something new. As you start, your main goal is to get used to the new habit.
Some different types of methods that are tried and tested by our panellists are
Project 333, where you dress with 33 items of clothing for 3 months.
Read this article about the project A new trend has tons of women cleaning out their closets until they're left with only 33 things- Business Insider
Read these two articles on the method
I Decluttered My Closet With The KonMari Method And Here's What Happened - Huffington Post
The Konmari Method For Tidying Up Changes Peoples Lives - News.com.au
There are different methods out there but they all share a common goal of living intentionally. Have a look and see what feels right for you but not for too long, the important thing at this point is to actually start.
After you get comfortable with the idea you can adjust the rules as necessary because a capsule wardrobe is a way to be more intentional with your life, not about following rules for no reason.
2. Know the key categories that you probably should include
Tops

Bottoms

Shoes

Dresses

Outerwear

Accessories (hats, scarves, gloves, bags and etc)
I know these categories seem obvious but I would have found it helpful in the beginning and so I am mentioning them now. When I started I made a couple of errors of having too much of one type of clothing and too little of one thing, so I had to put away some and pull out more of the others.
Don't forget to consider the weather very carefully. The weather in Melbourne is utterly inconsistent throughout the day. These days it may be 8C when you leave for work, 20 degrees at noon, and then windy rain at night as I come home. Therefore having weather appropriate clothing that's breathable, warm, and easily layer-able is important to me, so make sure your clothes are weather appropriate.
N.B. Feel free to exclude your sleepwear, underwear, and exercise clothes from the edit.
3. Look into what colours work for you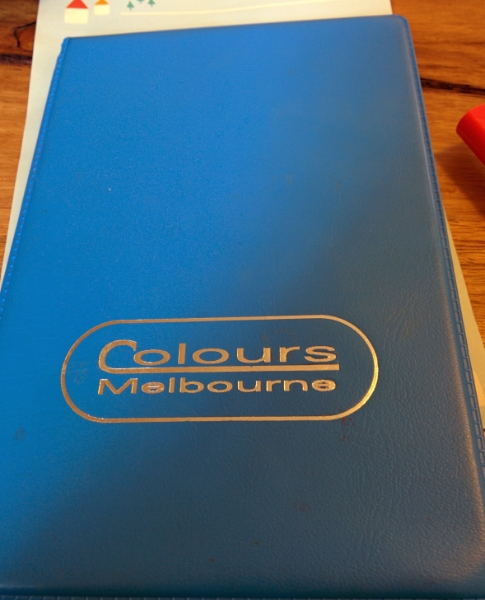 I found out that my fellow panellists considered a colour scheme when they chose the capsule wardrobe items so that their clothes work with their colouring. There's also a service called colour analysis (also called skin tone colour matching and seasonal colour matching) where colours of clothing and/or make-up are matched to a person's skin complexion, eye colour, and hair colour.
They advised us that when considering what colours work for you think about how your clothes are looking against your face. Ask reliable friends and family how the colours look for you. While I didn't do colour matching when I started my capsule wardrobe if I knew about it I would have definitely looked into it more.
Links to help you match your colours:
Carole Jackson, Colour Me Beautiful
3. Get Sorting
Now that you have a guide to follow through, a basic framework to work with and figured out your colours it's time to get sorting. Pull out all your clothes and then go through them one by one. You'll be making four piles in total, one to keep, one for off season clothes, one for donating or selling, and one to trash. Remember, only keep things that you love and would wear.
As you sort through your clothes think about why you have been holding on to these things. Have you just never realised how much stuff you had? Or do you have a deeper challenge with shopping? Maybe you may just have been swayed by stylish and strong marketing forces. I feel it is very important to get to the reason why we have ended up with so much stuff that we rarely wear. If we don't get to the bottom it is very likely that we'll fall back to old habits again.
The amount of time this part may take will depend on how much stuff you have. It could take few hours to a whole day. While it is nice to get everything done in one go sometimes we don't have the time or it can just be plain overwhelming to look at your clothes and sort them. In that case, I would suggest either dedicating a small amount of time, maybe 15 minutes (whatever you can do), every day and go through it slowly. I suggest that once it gets to a manageable amount sort the rest in one go.
4. Store, donate or sell right away
All the off-season clothes that you are keeping put them away and store them away from out of sight so they are not causing visual clutter in your wardrobe. Make sure to clean off stains, wash and iron (if needed) before you put them away for storage because stains will set over time if not attended.
All the extra stuff that you don't need get rid of them. If they are worse for wear you can trash it (or turn them into cleaning rags) and if it is in good condition you can donate or sell them. There are some really good organisations that give your unwanted clothes a second life.
5. Adjust as necessary
Now that you have culled what do you don't need, is there anything missing from your wardrobe? It is okay to get new things if you need them, just make a list beforehand. Consider your body shape, complexion, and keep an eye on shapes and patterns that you like when you write up your list.
When you do go shopping choose good quality pieces, whilst remaining within your budget. Now that you have a less stuff than before individual pieces will get a lot more wear.
In the future to maintain your wardrobe follow the one in, one out rule. Often when I want to buy something knowing that I have to eliminate one item from my wardrobe it makes me think about my purchase for longer and deeper. Usually, a new item is not worth getting rid of my old item.
6. Keep an eye on when you want to buy more
Is the need to buy coming from an actual need because you have no winter shoes or because you want to trick yourself into feeling better by buying shoes? Every time you have the urge to go shopping, write down why you think this is occurring. Write down whether a new purchase will fix your problems or make you feel better in the long run. Ask yourself if there is a better way to solve what you are having trouble with. Do this exercise every time you have the urge to get new things. It really works to the get to the bottom of those urges before you act on it.
Fears that may come up
There are fears that are going to come up as you cull your wardrobe, like not having enough or people noticing what you are wearing for the wrong reasons. I had these fears too. They went away when I actually started dressing with less instead of just thinking about it because the fears did not come true.

The hardest part is always getting started so consider your capsule wardrobe as a fun experiment. If it doesn't work for you can return to normal when the experiment ends.
With love and simplicity,
Nyamka