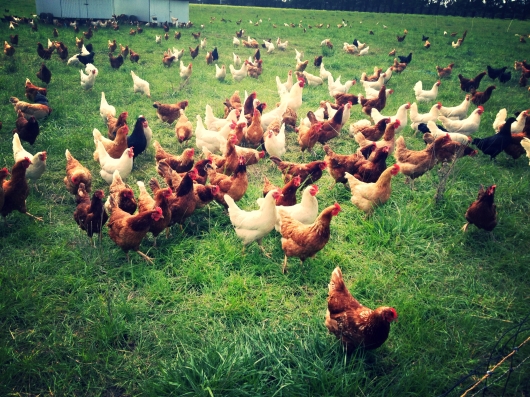 Come November I  might be killing a chicken.  I am quite nervous when I think about it, but I think that's the right feeling to have in this situation. Taking an animal's life is no trivial thing.
This is  happening because I chose a chicken workshop as a reward for donating to a Pozible project that wanted to raise $60, 000 for an egg sorting and grading machine for Madeleine who farms organic eggs. Without the egg sorting machine Madeleine was spending 3-4 hours a day manually sorting eggs into cartons, which limited her ability to get more chickens and provide more organic eggs to more people in Melbourne. If she had an egg sorting machine the process could be mechanised and she could have more chickens and produce more eggs.
As  a reward for donating to the project there were various rewards. As my reward I chose a chicken workshop. If Madeleine reaches her target, which she did (Yay!) those of us who selected the chicken workshop as a reward will learn how to kill, pluck, and clean chickens. Since Madelaine has reached her targets, sometime this November I will be going to their farm and will be  presented with the opportunity to kill my own chicken to take home and eat. I am glad Madelaine has reached her target, but now I am nervous about what's going to happen in November.
I came accross the project via Ceres, my organic online grocery shop, who shared the Pozible project on their Facebook page. I knew I wanted to help out the person who produced the eggs I ate for breakfast. I also. support the value and the philosophy behind organic food.  Thanks to Madelainea city dwelling person like me could eat more ethically without raising  my own chickens.
When I go to the farm I am expecting either of two things happening . One, I am able to kill a chicken, and learn a useful skill. Or, I faint, and become a vegetarian. I think, if I  can't kill the animal I am going to eat I probably shouldn't be eating it. I have seen sheep  get slaughtered but seeing is not the same as doing.
Almost every summer my family goes to the countryside to see family friends who supply our  meat for the winter. On few occasions I went with them and saw how they slaughtered animals. Children aren't allowed to see an animal get slaughtered  but I  was a curious kid  and I snuck out  of the house to see it happen.
What happened was nothing like what I imagined in my overactive brain.  There were no gushes of blood, or loud wailing of  sheep. The animal was dead within few seconds. After the animal was slaughtered the innards were taken, the blood scooped up, then  it was skinned and butchered. I remember helping my grandma clean the innards and  then make blood sausages. I can imagine how pouring blood into sausage casings may sound gruesome but for me was completely normal- nothing was wasted. Having known and seen  where the animals had come from, how they lived, and who took took care of them  I was okay with eating  meat. Being involved and seeing the whole process made me  understand the value of food. Especially  with meat, because an animal has literally died so we could eat it.
Even though getting to the country meant driving for hours, which meant lots of car sickness for me it was worth it. The countryside was loveliest in late summer, the weather was warm, the produce was ripe, and the dairy was at it's tastiest as the cows were well fed on wild grasses. After being cooped up in the city being in the country surrounded by nature, animals,  whilst getting some sun , and fresh air had a therapeutic effect. I remember having tons of fun going hiking, swimming, and picking fruit. Even shovelling cow dung to clean the paddock  was fun and novel. I wish I had a picture to show you what it was like in the country.
Ever since moving to Australia I haven't been to a single animal farm. I have been to a wheat farm and know how wheat grows but I haven't seen where my meat comes from. As an omnivore I eat everything and I truly believe we should know how our food is grown and raised for our own wellbeing, and for the animals wellbeing.  As nervous as I am about killing chicken, I am embracing the opportunity to see the chickens who make the eggs and and meet the people who raise them. Wish me luck!
With love & simplicity
Nyamka